Caramel Apple Pecan Pie
It's time for another apple pie! Nothing beats a caramel apple. Caramel and apples are just made for each other, and what better place to bring them together than in a pie? This pie just sounds amazing and pecan's happen to be my favorite nut too! The possibilites are endless when it comes to apple pies, and once you see how this pie turns out, you'll want to eat it immediatly. When I first read this recipe in Ken Haedrich's Pie, I was a little intimidated by all the steps it takes, but, trust me, it's not as difficult as it sounds and the final product is a reward worth the work. You're not going to find this pie at a Marie Calender's or a Baker's Square. So, hit up your local market, grab your pie baking tools, and let's get to it.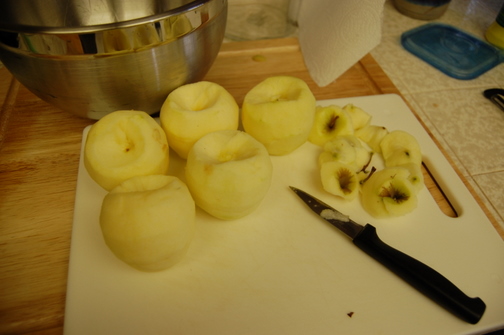 Start by peeling, coring, and slicing your 7 golden delicious apples.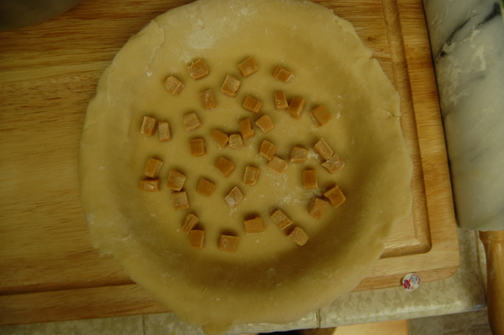 Preheat your oven to 400°F.
Take your caramels and cut them each into fourths. Scatter them on your pie crust and store in the freezer until your filling is ready.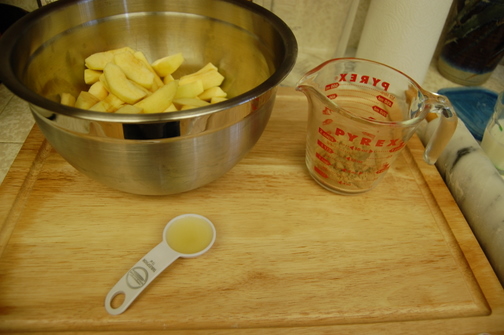 Once your apples are all sliced, measure out 1/2 cup of brown sugar & tbsp of lemon juice.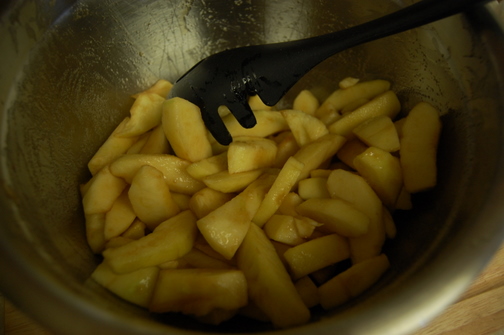 Mix together well.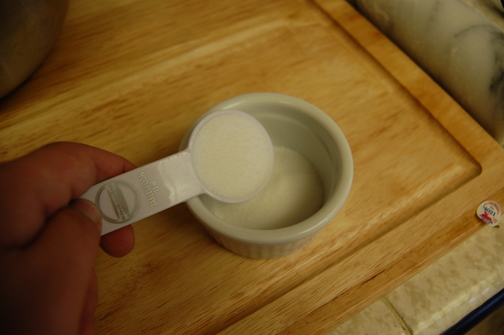 Measure out 2 tbsp of sugar.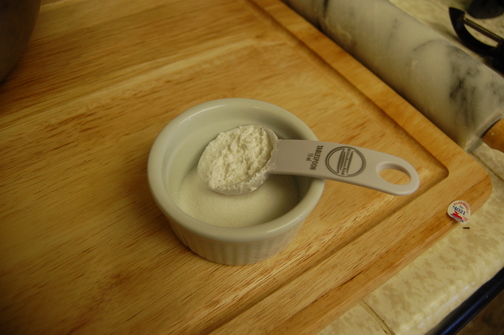 Add 1 tbsp of cornstarch to your sugar and mix.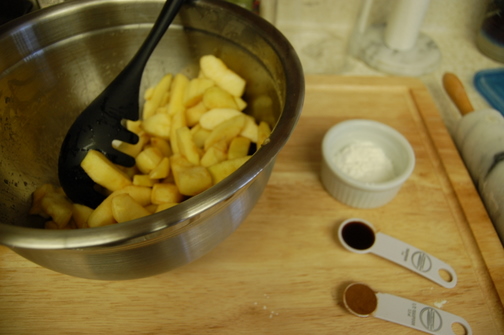 Measure out 1/2 tsp of ground cinnamon, and 1 tsp of vanilla extract.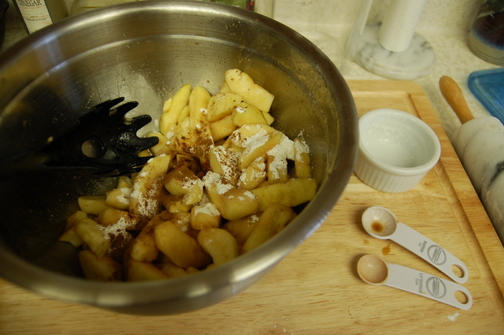 Add your tsp of vanilla extract, 1/2 tsp ground cinnamon, and cornstarch/sugar mixture to your sliced apples. Mix.
Once mixed well, take your crust out of the freezer and unload your filling onto the caramel pieces. Place in the oven and allow to bake for 30 minutes while you prepare the crumb crust.
In a bowl, combine 3/4 cup flour, 3/4 cup pecan halves, 1/2 cup sugar, & 1/4 tsp of salt. Then transfer to your food processor and pulse several times.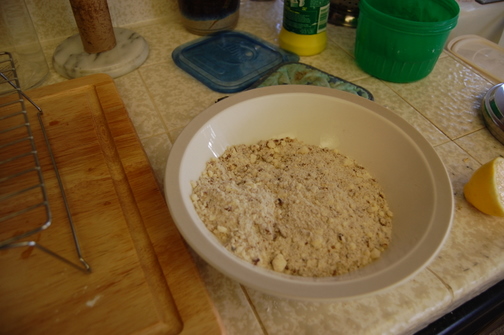 Add your sliced 3/4 stick of butter to the food processor and pulse a couple more times until crumbs form. Transfer the crumbs to a bowl & refrigerate.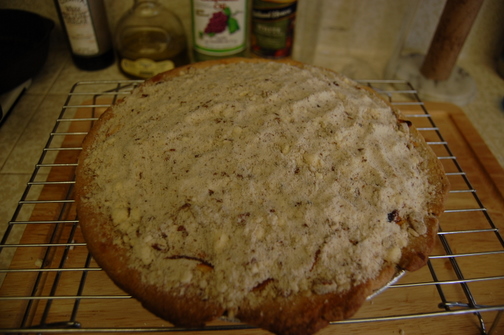 After 30 minutes in the oven remove your pie, reduce the temperature to 375°F, and layer the top with your crumbs. Return to the oven and let bake for another 30 minutes, covering it with tin foil for the last 10-15 minutes. After the full bake time, remove your pie from the oven and allow it to sit for an hour.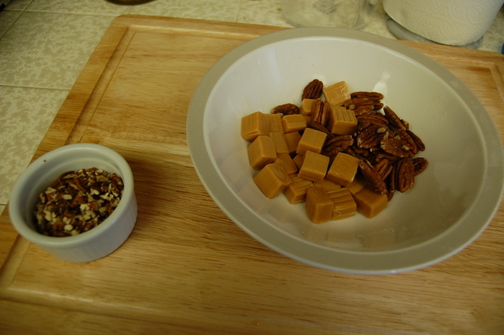 While the pie cools gather your 1/2 cup of chopped pecans, caramels, whole pecan halves, water, and sliced butter.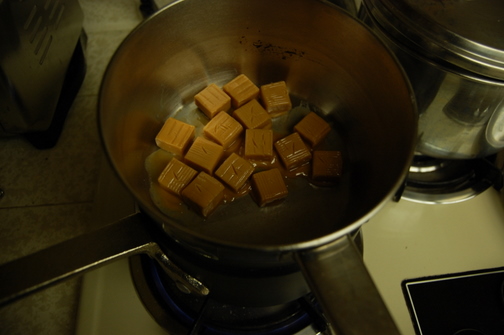 Combine your caramels, butter, and water in a double boiler if you have one. I had to look up what a double boiler was, and, since I didn't have one, I just used two sauce pans.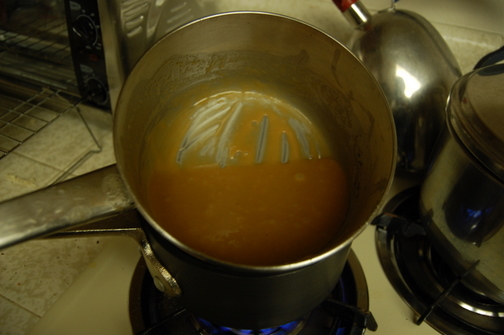 The double boiler allows the caramels to melt with out burning. As the caramels melt, stir it around in order to smooth it out.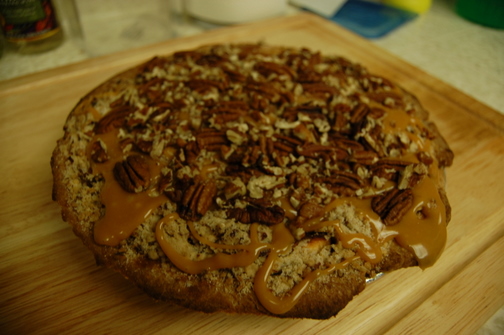 While the pie is still warm, drizzle melted caramel over the crumb crust (the amount is up to your liking) and randomly press your pecan halves into the caramel. Top it off by sprinkling your chopped pecans over the caramel. You're done.