Lemon Chiffon & Tangerine Chiffon Pie
I just want to start out by saying the Tangerine Chiffon pie wasn't as good as the Lemon Chiffon pie. Lemon pies are one of my favorite pies. If you've ever had a Lemon Supreme pie from Baker's Square then you know why. I've never been a huge fan of Lemon meringue pie, but everyone else I know loves them. However, this pie isn't a meringue pie nor is it a cream cheese pie like the Lemon Supreme; it's a chiffon pie which, from what I understand, refers to its egg base and fluffy texture. The lemon recipe is once again from Ken Haedrich's Pie I also decided to take a stab at substituting tangerines for lemons in a second pie, having received a bag full of them from my dad's tree. Being a lemon recipe the lemon pie came out great, but I've learned that simply substituting another fruit in a pie doesn't always work (like the raspberry cherry did). That is why this site exists: trying different experiments and learning anything, no matter how minor, and everything about baking pie. Practice makes perfect, check it out: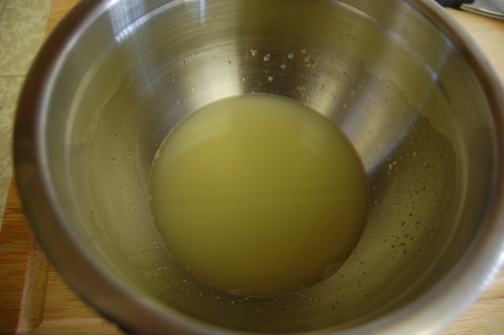 1/2 a cup of lemon juice.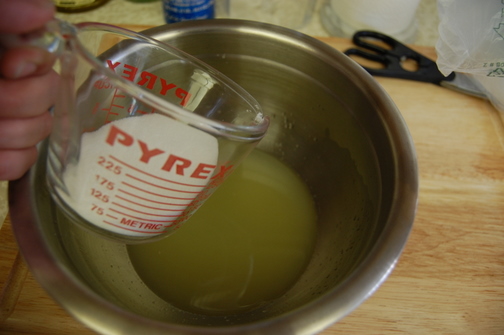 1/2 cup of sugar.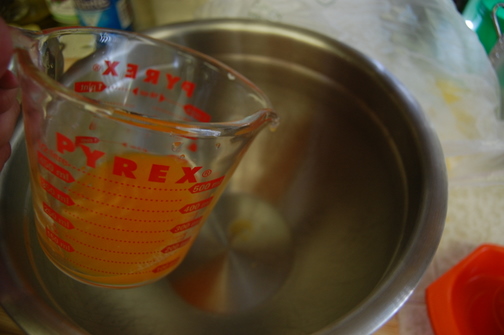 In a second bowl pour your 1/2 cup of tangerine juice.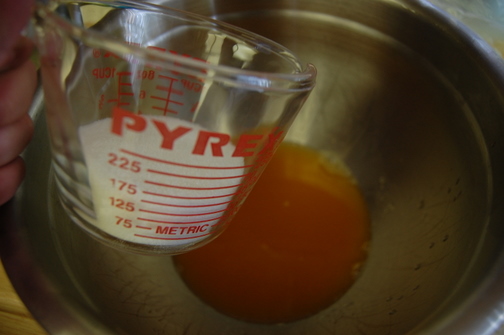 Add 1/2 cup of sugar.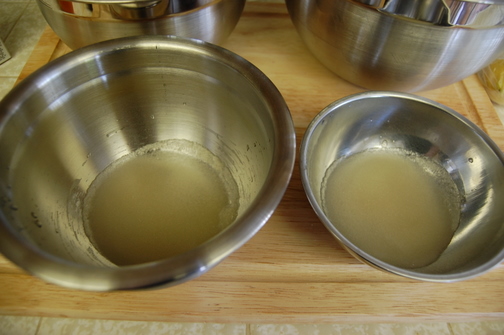 Pour a 1/4 cup of cold water in 2 seperate bowls (one for each pie), and sprinkle an envelope of unflavored gelatin into each.
While your gelatin sits add a tsp of lemon zest to your lemon juice.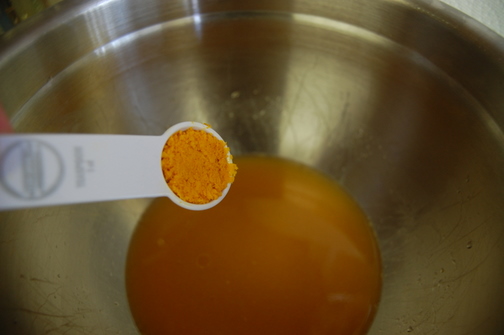 Add a tsp of tangerine zest to your tangerine juice.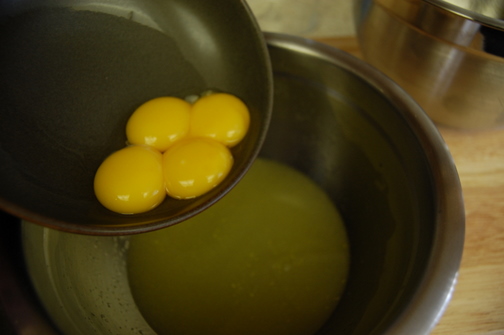 In each of your juice/zest mixtures add 4 large egg yolks, but save your whites and let them sit at room temperature.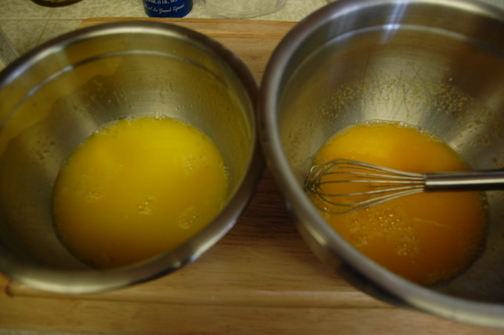 Whisk your egg yolks into each of your juice mixtures. The recipe calls for 1/2 cup of lemonade/tangerade or water, not having either -ade I used water.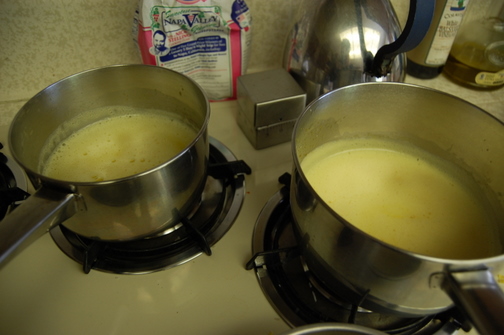 Transfer your mixture to a nonstick saucepan and cook over medium heat. Constantly stir each mixture until the mixture begins to thicken. You need to make sure that it never comes to a boil. I stirred for about 10 minutes. Once your mixture has thickened add your gelatin, mix, and pour back into the bowls you used earlier to allow cooling. After 10-15 minutes of cooling, place in your refrigerator for an hour.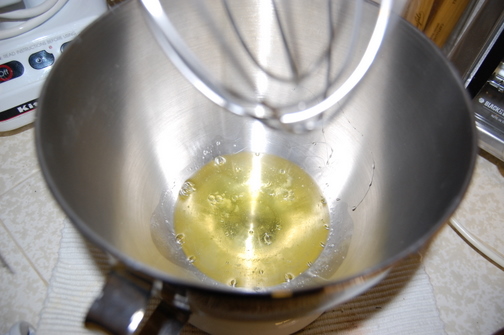 While your gelatin/lemon or tangerine mixture chills in the fridge grab your room temperature egg whites and prepare your mixer or whisk.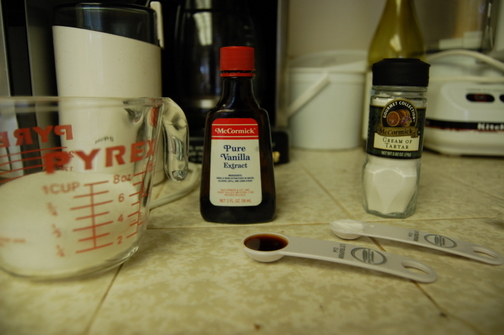 Measure out your remaining 1/2 cup of sugar, 1/2 tsp of vanilla extract, and 1/4 tsp of cream of tartar.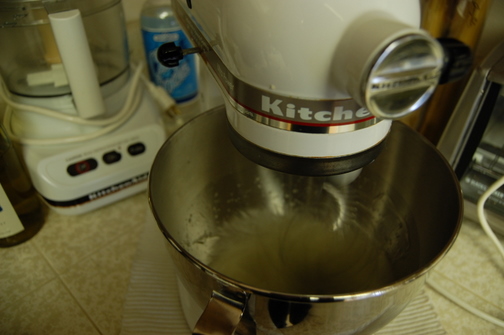 Start your mixer, or start whisking.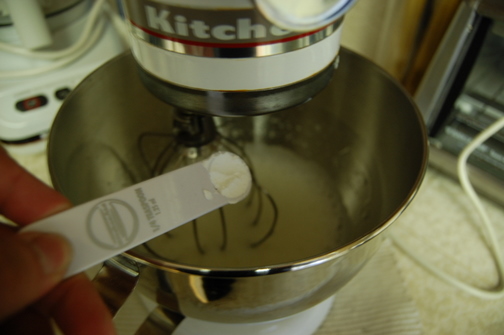 Add your cream of tartar. Then slowly add your 1/2 cup of sugar. Add in your vanilla extract. If your using a mixer put it on high, if you're doing it by hand you're gonna want to beat it fast. Buhhh!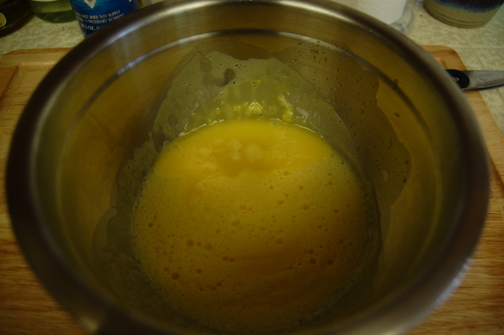 Remove your gelatinized mixture from the refrigerator.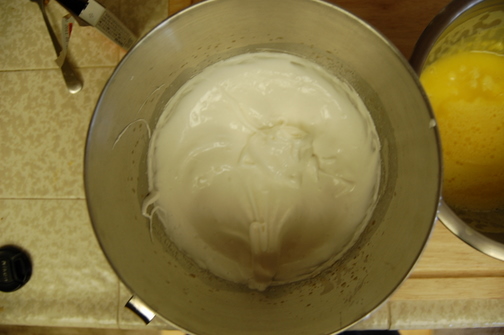 Once your egg white mixture is thick and firm,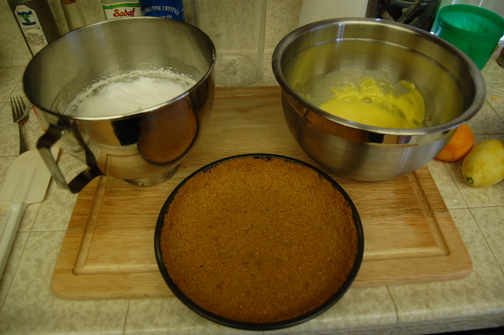 start folding your egg whites into your cooled lemon or tangerine mixture.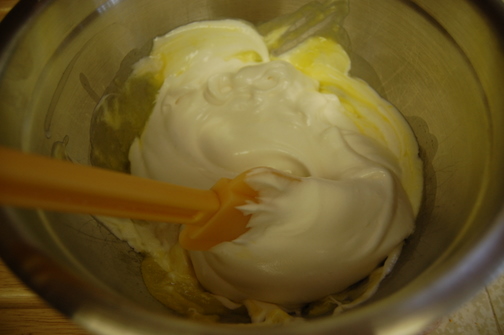 These photos show how I did it, but this video does a better job of explaining the process.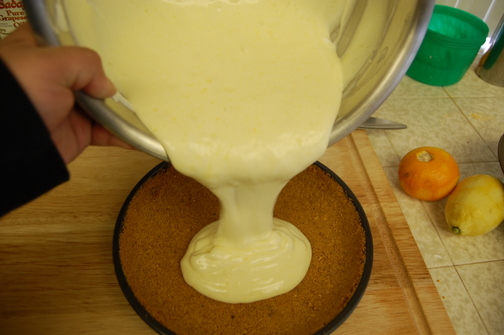 Once you fold your egg whites into your citrus mixture pour the now creamy mixture into your graham cracker shell. (Graham cracker crust recipe soon to come.)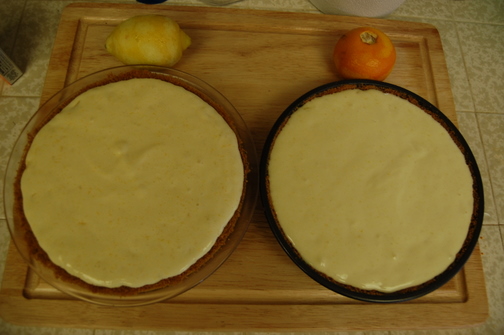 With your graham cracker shells filled, carefully cover with tin foil, and allow your pie to chill in the refrigerator up to 3+ hours.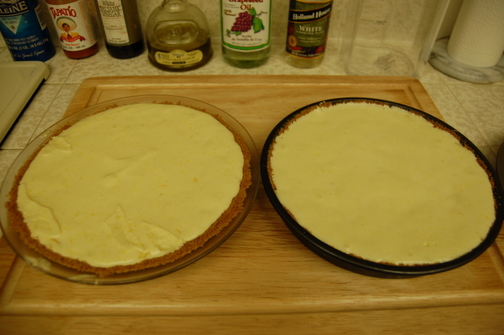 Remove from the refrigerator, and your pie is ready to serve.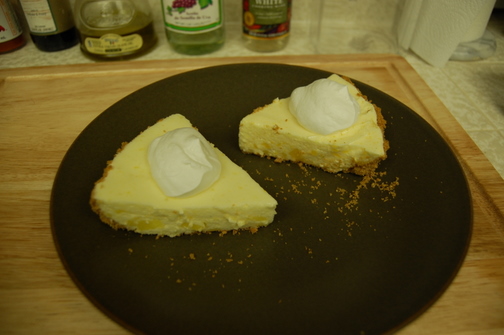 Your slices will be delightful clouds of citrusy fluff. The tangerine chiffon wasn't horrible, but the lemon chiffon definitely takes the cake...or should I say PIE!