All Peach Pie with Coconut Almond Crumb Topping
I've been thinking about different types of fruit, and, since I'd eventually like to make my own unique recipes, I need to learn the ins and outs of traditional pie fruits first. The next fruit I thought to tackle was the peach. When I originally read this recipe in Pie by Ken Haedrich, I wondered, "Why not use fresh peaches instead of frozen?" It turns out that frozen fruit is typically better than fresh fruit because there is a very short amount of time that passes between harvesting and freezing. In addition to sharing this information with you, I've also added a link to the crumb topping. As you'll remember, the crumb topping for last week's Blueberry Piña Colada pie didn't exactly turn out very well, so here is a more successful attempt at a crumb crust. So, here you are: the final pie of PieADay.com's first week.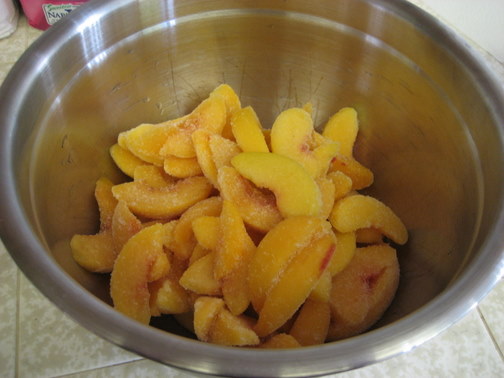 Empty your bag of frozen peaches into a bowl, and allow to defrost.
Zest your lemon.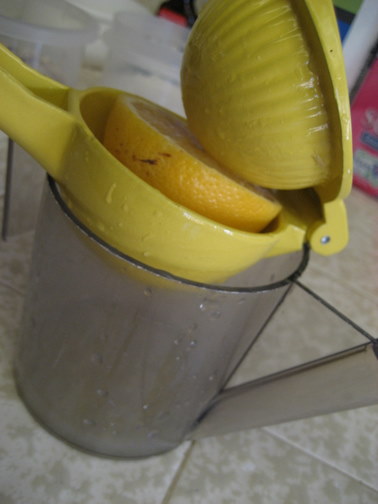 Juice your lemon.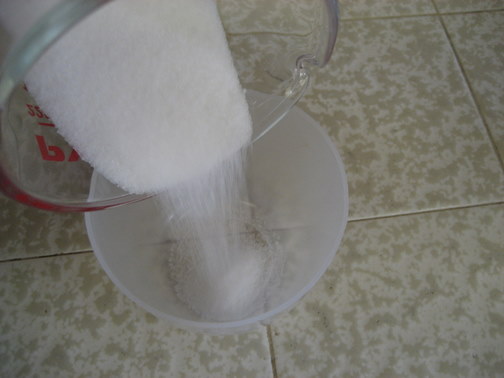 1/3 cup of sugar.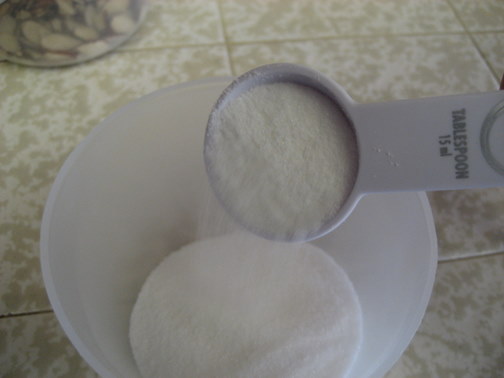 3 tbsp sugar in a seperate container.
Lemon juice, lemon zest, & 1/3 cup sugar.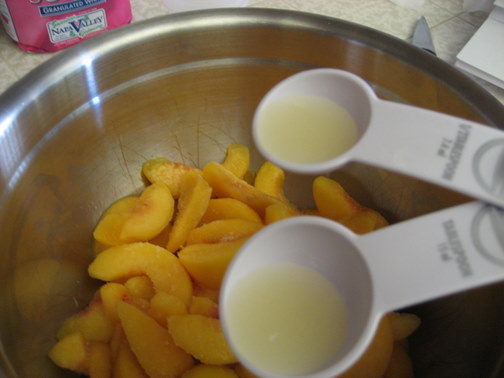 Add 1 1/2 tbsp lemon juice to your peaches.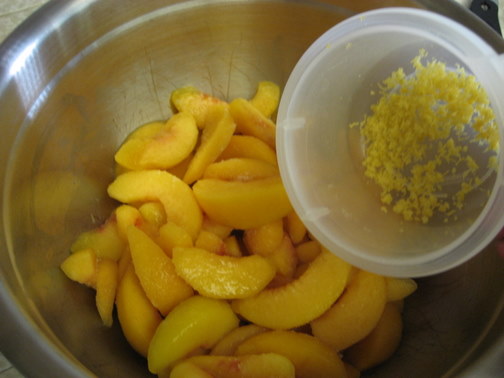 Add your lemon zest.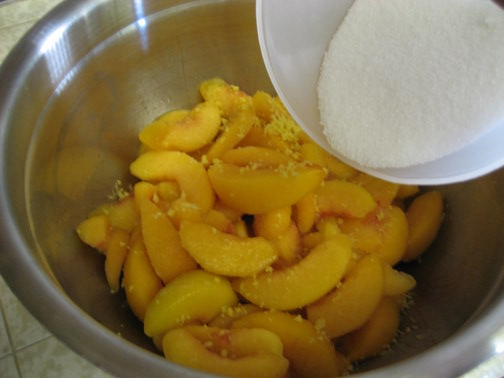 Add 3/4 cup of sugar and mix well.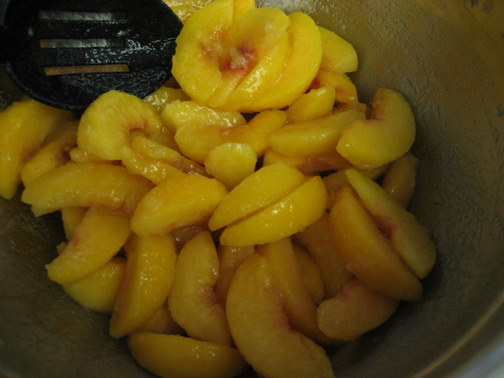 Mix until the peaches are thoroughly coated.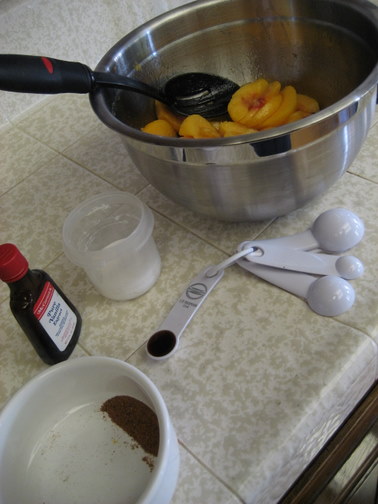 Combine remaining 3 tbsp of sugar with 2 tbsp of cornstarch; gather your nutmeg, and vanilla extract. Let all the ingredients hang out together for about 10 minutes. Preheat your oven to 400°F.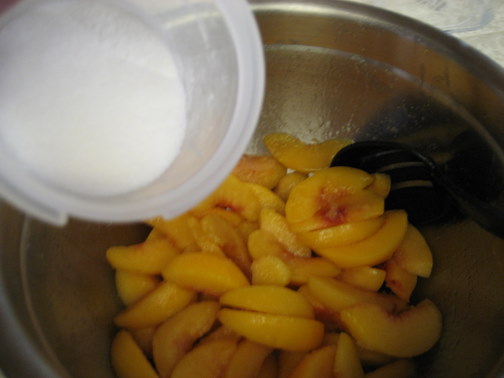 Add cornstarch/sugar mixture to peaches and mix.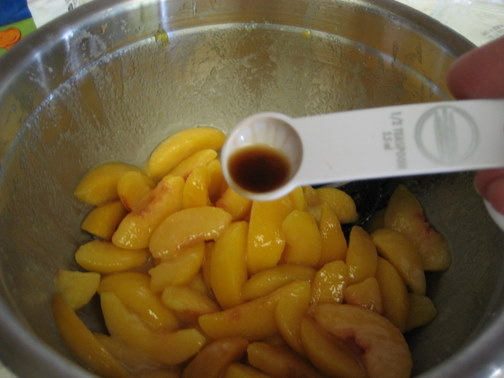 Add vanilla extract.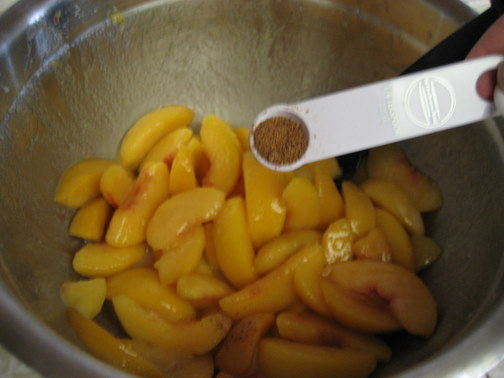 Add nutmeg and give your mixture one final good stir.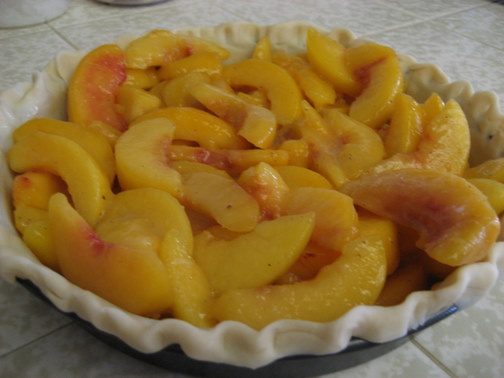 Pour your filling into your pie crust, and place in oven for 30 minutes. In the mean time, make your coconut almond crumb topping.
Remove your pie from the oven and begin to spread the crumbs over the peaches.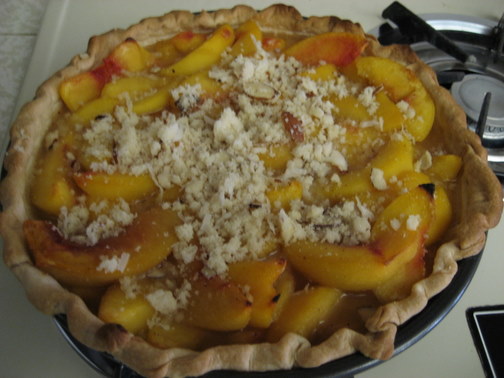 Continue spreading crumbs until the peaches are compeltely covered.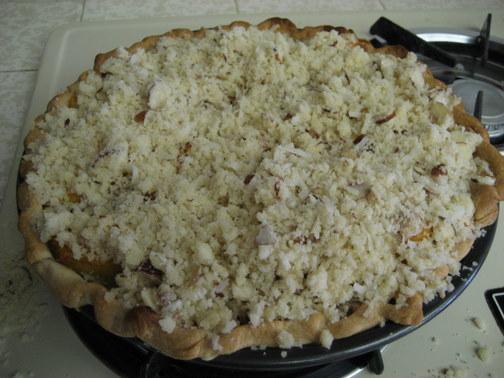 Once completely covered, return your pie to the oven and bake for an additional 30 minutes at 375°F. 10 minutes before the end of baking time, place a sheet of tin foil over the top of your pie so that the coconut does not burn.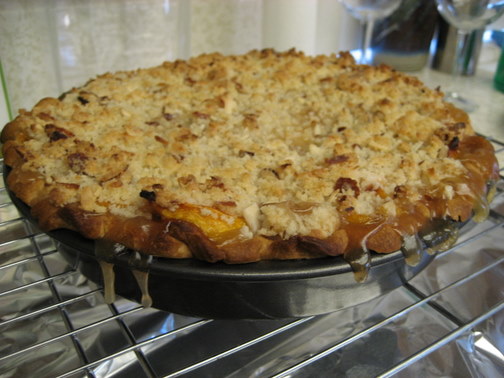 Once the final 30 minutes of baking has completed, remove your pie from the oven and allow to cool for about an hour. Then, it's ready to serve.